RUNINDC Review
by Judy Castagna, RUNINDC
Arlington is chock full of superior Sunday Brunch specials, so stellar that folks from DC cross the river weekly to get some.  Just drive down Wilson Blvd from Ballston to Rosslyn and specials thrive galore.
Starting this week, Arlington adds another location to its Sunday Brunch list. Nestled between the intersection of Rosslyn and Courthouse, iL Radicchio has been serving endless pasta and oven baked pizza since Clarendon was just a one stoplight town.
Their menu is updated seasonally and many families and couples have enjoyed eloquent meals and conversation, feeling the warmth of the Italian brick oven and admiring the lively walls covered with drawings of ducks and rabbits and Radicchio.
And now every Sunday, you can come to IL Radicchio to enjoy Lamb, Eggs Benedict, Burgers and a list of other heart-warming dishes.
Chito and I  tried several items  including a house specialty, the porcetta: bacon wrapped pork tenderloin with crispy polenta, perfectly poached eggs, and crispy kale at $15. Beautiful delicious. One of the chefs, Max Pena, cooked up the tenderloin with a yummy shallot-garlic-rice wine- brown sugar-honey method that is so melt-in-your-mouth!!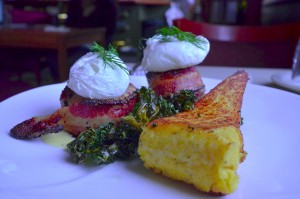 I also enjoyed the black angus burger with crispy proscuitto and bruleed goat cheese, homemade pickle, and potato hash made from sweet and regular potatoes. The beef is local from Fells Point and Baltimore and tastes amazingly good with just a bit of salt and pepper to season it.
After I munched on my delicious burger, as I noticed the soothing Frank Sinatra music playing softly, I took a bite of Chito's beautifully plated rosemary lamb with poached eggs, lemon mint hollandaise sauce, chimichurri, and potato hash (again mixed white potato and sweet potato.) Lamb that is so juicy!!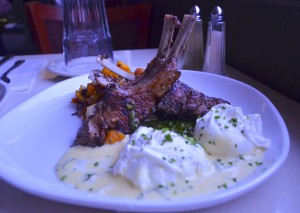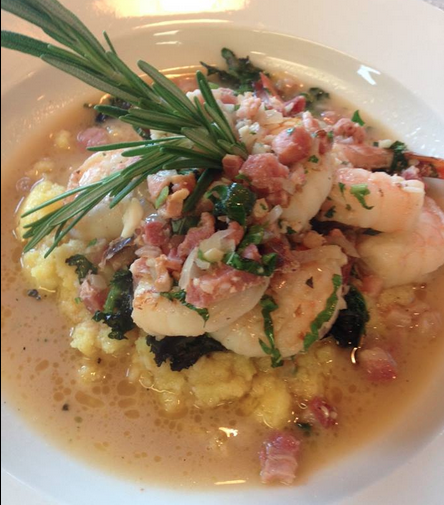 I did not personally have enough room today to try two other brunch house specialties but I admired while other guests enjoyed them: "shrimp n grits"  served with pesto, pancetta, peppers, and creamy polenta.
Also I want to try "nectarines and cream parfait" with lavender and almond granola. The Head Chef Andrew Holden is really amazing!
Dinner specialties include the following great salads and entrees among other options:
•  an arugula salad with figs, procuitto, pecorino, white vinaigrette
•  an insalata di mele with field freens, apples, walnuts, grapes, goat cheese, and prosecco dressing.
For entrees:
• GRILLED Eggplant Parmesan with fresh mozzarella melted parmesan, fresh basil, smokey tomato sause, rosemary potatoes, broccolini, pine nuts, and balsamic reduction.
• Rosticceria Pollo e Salsiccia Tortelloni, a pulled rotisserie chicken over fire roasted kale and Italian sausage tortelloni in a rich chicken adn white wine broth
• Gnocchi Salsiccia e Funghi, a pan fried gnocchi, sausage, arugula, toasted pine nuts, mushroom ragu, lemon, roasted garlic cream.
So many other great items and the great pizza and pasta too.
I learned that brunch menu will continue to evolve. I look forward to going back!
Such a great place!